Half Price Next Day Delivery @ New Look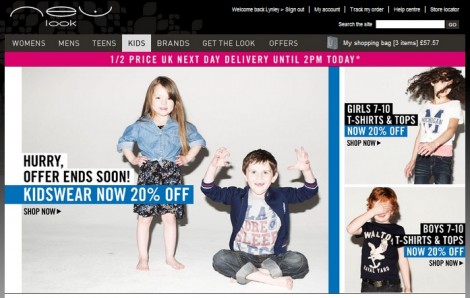 This is a use it and be quick about it kind of deal. New Look are offering half price on next day delivery but only until 2pm today.
Next day delivery is available for orders placed before 5pm, with delivery the next day between 7am and 5:30pm. This normally costs £4.95, but with the special offer this is reduced to £2.50. Standard delivery, which takes 3 to 5 working days, costs £3.95.
New Look is a fab place to pick up some inexpensive clothes. A lifesaver if you've got a pre-teen or teenage daughter. I spent many an hour in the store with my step daughter many years ago when it first opened. And Mark One - remember them?
There's also currently a sale on in the kids section. Up to 20% off. So well worth a good browse. I'll be having a good look through their sections for t-shirts and tops. But I'm never able to get trousers from the store as they only seem to sell jeans. Am I alone in having a son who refuses point blank to even look at jeans, and will only wear them under extreme sufferance? My step son was also the same way. And boys can be just as picky about clothes as girls can.
There's also mens clothes on the site, and of course a ladies department, so this could be a particularly handy deal for busy parents who find they need something urgently and simply don't have the time or the energy to get to the shops!
Thanks to hedd at HUKD!