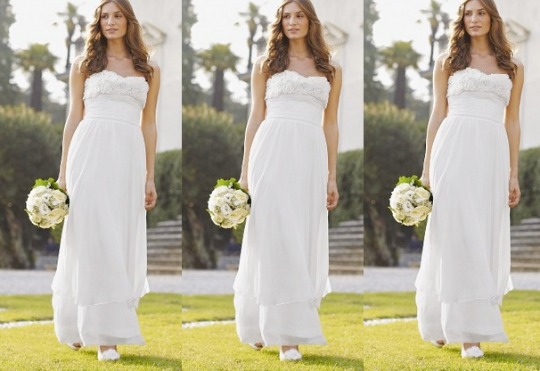 In case you didn't know, I am getting married in June. My dress was an absolute bargain and that's because I just couldn't bring myself to spend £1000 on a dress that I will wear once. It still cost me hundreds but if your budget is tight then the last thing you want to do is blow it all on that dress. We have found this gorgeous Nicholas Millington Corsage Bridal Dress on eBay Store: Very Clearance. Get this, it was £309 and is now only £34.99.
The Nicholas Millington Corsage Bridal Dress is ever so pretty and if I had clapped eyes on it before I got my dress I would have ordered it to try it on.
It features a gentle sweetheart bust, which means it will flatter a lot of shapes and sizes. The floral, corsage detailing on the bodice is absolutely stunning and the thick waistband again will create a feminine shape. The skirt is tiered and has some volume to it.
There's sizes 8, 10, 12 and 14 available and I think it's a very pretty dress for anyone getting married in the near future.
The delivery charge is £3.95. However, in the dresses description it states that delivery and returns are FREE so I would ask for the FREE delivery!