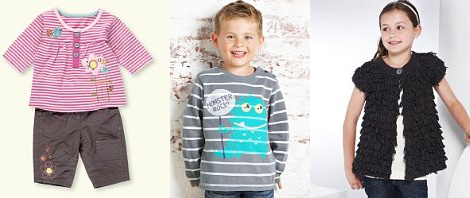 Marks and Spencer have a half price sale on at the moment; they are VERY popular and things online sell out FAST, so if you need something then I'd pop over there pretty sharpish if I were you!
It always feels really strange writing 'Marks and Spencer' as right from when I was little, it was always referred to as Marks and Sparks!
The only time I go in to Marks and Spencer any more is to buy underwear - you really can't beat them for bras and knickers.
Every time I hear talk on the radio about another clothing giant heading for the wall, I keep my fingers crossed that it's not them - I'd be distraught and my lingerie shopping would never be quite the same again.
I'm not a fan of their womens clothes - they went a bit frumpy for me; although the other month I was out with Tamsin, we popped in to M&S and I came out with an ace pair of combat trousers!
The little kids clothes in Marks and Spencer have ALWAYS been cute and good quality too, you'll pay a bit more compared to Tesco et al but they'll last a lot longer.
I don't know much about the mens side of things, other than my dad always gets his shirts from M&S - or rather, my mum always buys my dad's shirts from M&S.
Thanks to welovecoa over at HUKD!