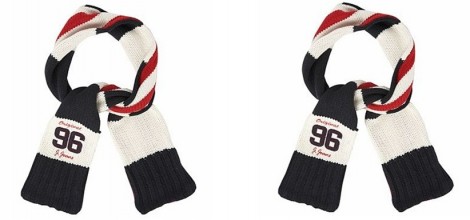 Fancy nabbing a Jasper Conran scarf for only £2.43 from Debenhams? Well, then, this deal is just for you. It certainly is a very good price when you consider  that it usually sells for around £9. It certainly is a very pretty scarf that, thanks to its neutral colours, will appeal to either gender.
The Jasper Conran scarf has a size age of 11-13 but as it is a scarf I can't help but think it will be fine for most ages? It could end up being a bit long for a tiny tot but they will happily wrap it around several times, and it has the added advantage of being something they can grow into.
The Jasper Conran scarf is labelled as Mix and Match and has double-thickness knitted fabrid that's perfect for keeping warm and toasty. The different stripe patterns on each side give it a quirky and individual look.
It's cute, delivery is free, and it is down in price. A great deal for next year's winter wardrobe. Or this year, seeing as winter is being a bit stubborn about leaving.
Thanks to andywedge at HUKD!