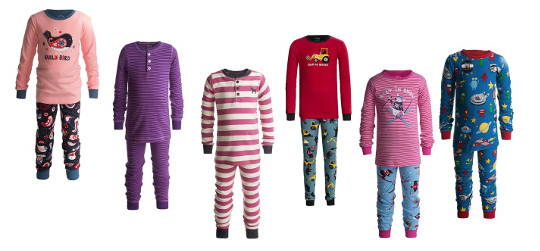 Sierra Trading Post have a sale on Hatley Cotton Pyjamas, reducing them from £12 to £9.60. Amazon lists them between £20 and £24 a pair, so this strikes me as a fantastically good deal, with shipping for £3.58 in 3 - 6 business days. 
We may be heading into the warmer months now, but the evenings are still cold and if you're heading out anywhere in the UK in a tent, even in the summer, chances are your little ones will need long sleeved pyjamas, so don't write these off just because they're long sleeved. A cold child on a camping trip can totally ruin it for everyone - trust me, we once had to abandon a trip in the middle of the night, drive home, sleep in warm beds, and drive back the next day to get our gear! Nightmare.  Since then I always make sure there are a lot of layers!
These pyjamas from Hatley are gorgeous, 100% cotton. They are two-piece sets, with cuffs for the arms and legs to keep the warmth inside.  They are machine washable, and reviewers love them, especially all the different styles to choose from.