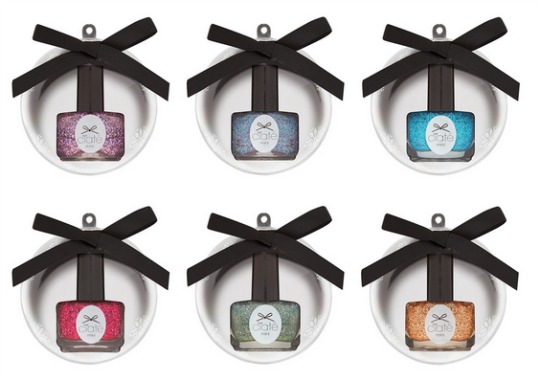 This is a gorgeous little gift, but it went out of stock once already this evening so if you want one you'd better be quick!
TK Maxx have a selection of Women's Gifts at massive reductions, and one of them is this Christmas Baubles Nail Polish Trinkets Set. The RRP is £30, TK Maxx had it on sale for £16.99, and now it has been brought right down to just £5!
The ladies at PlayPennies who know about these things seem very happy that the nail polish is Ciate, and were not happy when it went out of stock. Even I know that these would look cute hanging on a tree, or make a great Secret Santa gift, even though I haven't done my nails since...actually I really don't know when. Anyway they look lovely and sparkly and come boxed up ready to give as a pressie or stocking filler, and if the girls here like them that's good enough for me.
There are a few other goodies on the £5 Gift offer* too including Leather Gloves, Beauty Gifts and Accessories, all at big reductions, though they are selling really fast.
TK Maxx are trialling a Free Click and Collect at selected stores, mainly in the Midlands, otherwise delivery charges are from £3.99.