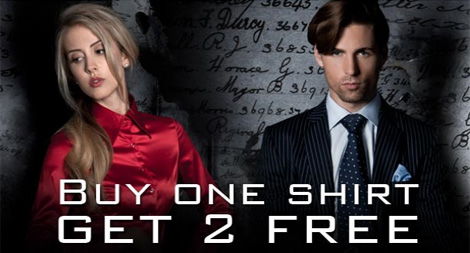 Hawes and Curtis have a mid season sale on - buy one shirt and get two free, this is VERY exciting!
Hawes and Curtis shirts are for shirt officiandos, they are most definitely not your Florence & Fred jobbies for under a tenner (no offence to Florence & Fred).
In fact, one ladies shirt usually costs £59 and if you're after a gents shirt the you'd normally be kissing goodbye to £69. But NOW, on selected shirts, you can have THREE for £59 (for ladies) or £69 (for gents).
I'm a classic, white, double-cuff shirt unbuttoned low (but not tooo low) kind of girl, teamed up with a pair of jeans and knee-length boots, so imagine my delight when I discovered that lots of their plain white shirts were included in the sale!
The good news is, you don't have to trawl the site looking for the sort of shirt you want. It's very quick and easy to narrow down your style and colour choices, the hardest thing might be deciding on only three shirts (although no one says you can't buy more!).
Delivery is super fast and costs £4.95 for up to five shirts.
Happy shirt hunting!