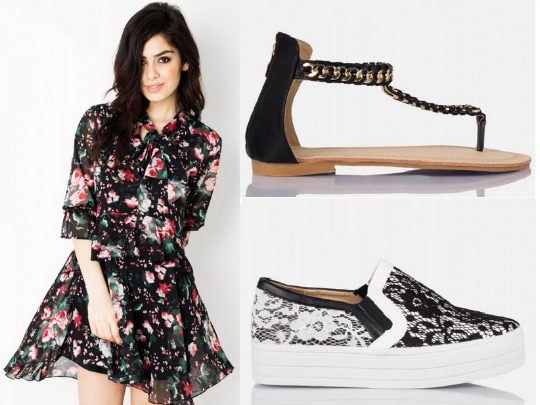 The sun is shining and you don't have any summer clothes because you spend the majority of your money on food shopping and/or on the kids. High fashion online retailer Daisy Street are offering 70% off EVERYTHING even there already reduced sale items. That means that you need not feel bad for spending on yourself. For that whopping discount, just enter promo code EXTRAOFF at the checkout.
I have never heard of Daisy Street before but they look along the lines of Boohoo.com and Select. I think with this 70% off code kicking about, they are most definitely worth a go.
Here are my top finds at Daisy Street: Kaius Pussy Bow Chiffon Blouse in Peach* was £19.99 code price £5.99, Jenny Bell Smock Dress* was £19.99 code price £5.99, Khloe Wide Leg Patterned Trousers* was £14.99 code price £4.50, Rahel Longline Lace Insert Sleeveless Blazer in Black* was £24.99 code price £7.50, Shawnette Fabric Lace Plimsolls in Monochrome* was £17.99 code price £5.40 and Mikaela Thong Gladiator Chunky Chain Flat Sandals in Black* was £19.99 code price £5.99.
Delivery isn't a bad price either at just £2.99.
Thanks to hello324 @ HUKD