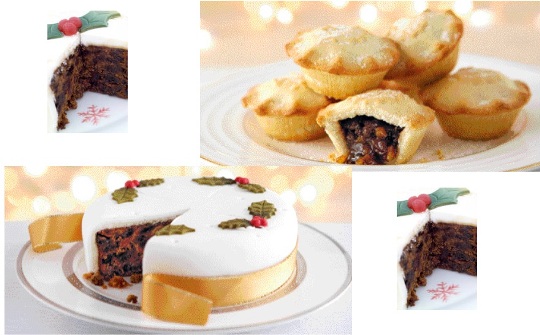 This year I've been on a mission to find the best priced Christmas products with the best tastes for your table. My first taste test took me to Aldi where I got the Luxury All Over Iced Christmas Cake for £6.99. This is a very reasonable price for this sized of cake and weighs in at 58.3p per 100g. Compared to the £8.50 of the Tesco Iced Rich Fruit Cake for the same weight, it is considerably cheaper.
This year I've made my own Christmas cakes, they are my benchmark. How will these pre-made Christmas cakes fare against the traditional Delia recipe I've used? Well, pretty good actually. The cake is well packaged and easy to unwrap and get into. The layer of marzipan and icing is definitely NOT stingy, and the lovely decorations are a delightful touch.
The fruitcake is rich and moist, lots of nuts and fruit so no stinting there, but, for me, it is overly sweet. This opinion was not shared by the other people I gave slices to, however, with everyone else commenting on how it was pretty much spot on.
Overall, I'd have to say that the Aldi Luxury Christmas cake is surprisingly good and one I would definitely purchase. The next thing on the list from Aldi was, of course, their mince pies. The packaging looks inviting and rich and doesn't leak sugar everywhere – a big plus.
These mince pies are alright. As a mince pie fanatic I am very fussy and unfortunately the pastry is not firm and crumbly enough, it feels too soft. The filling is divine but the pastry lets the side down. However, when you compare their lovely 99p to the £1.50 of the Tesco range, well, the pastry isn't that much of a hindrance – you can always bung them in the oven to crisp it up a bit first.
And if you head on over to their Facebook page they are giving away £100 vouchers in their Trolley Dash competition which you can, obviously, spend on Christmas cake and mince pies!