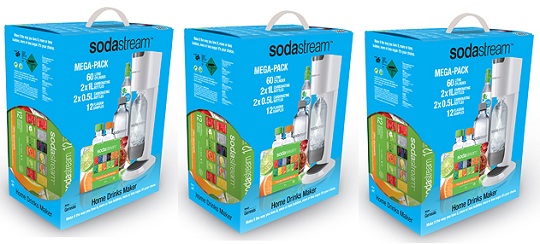 Now here's a Christmas gift that everyone will love! This Sodastream Genesis megapack comes with a white drinksmaker and £25 worth of flavours and bottles for free. Delivery time for orders within the UK is normally within 2 to 3 working days after the order is placed. Sodastream offer free delivery on all orders with 4 flavours or over £40, otherwise a £6.99 (incl. VAT) delivery fee will be charged.
Have fun making your own drinks and get better value for money. This Sodastream Genesis megapack comes with a white drinksmaker, a 60 litre gas cylinder, 2 x 1 litre carbonating bottles, 1 x 12 sample flavour pack and 2 x half litre carbonating bottles. Get all of these added extras and only pay for the price of the machine, saving you over £25.
The Genesis Drinksmaker is a slim-fit, space saving design that's available in a range of finishes. It comes with a 60 litre aluminium gas cylinder and one carbonating bottle, so you can make up to 60 litres of your favourite sparkling drinks. Plus you can choose from over 50 specially formulated mixes, so you can make fresh soda, with 50% less sugar and carbs than leading (store bought) drinks. Make it the way you want, more/less bubbles, more/less sugar, it's your choice!
What's more, by opting to use SodaStream it is estimated you will save the environment from around 1,000 bottles and cans over one year, so you can help to rid the world of plastic bottles.