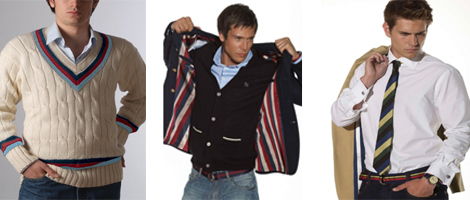 I recently got a cricket sweater from Smart Turnout that has changed my view of sweaters forever. It retails for around £100 so it's not budget, I know, but read on…
What you have here, is a sweater that will look good on a crumpled bale of hay.
When my husband put it on he muttered a bit about the scratchiness of the wool but it looked so awesome on him I told him to shut up. This jersey hangs really well on his frame. He is tall and broad, and this jersey hides some of the unwelcome bumps – he told me not to mention that bit but it is important! You don't need to look like a male model to pull it off.
Smart Turnout was created by Philip Turner when he decided to sell clothing and accessories in the colours of regiments, schools, universities and, today, a fashion range. These clothes have even appeared on Gossip Girl - awesome.
I love the idea of getting someone an item of clothing from their old uni or school. It can make such a personal Christmas present and shows real thought.
When my husband wasn't looking, I stole the jersey. The test was the school run. It was freezing cold – the start of this vicious cold snap – damp and rainy, perfect conditions to road test something that claimed to keep you warm.
It was scrummy. I agree with the fact that it was a bit scratchy, but overall this was delicious to wear. I was warm, I was cosy, and I actually think that the sweater suits me more. I may steal it.
While not a bargain price at £100 plus, these sweaters are a long-term investment as they really will last you forever. I honestly can't recommend these enough because they will look good every year, won't go out of fashion and are well made.