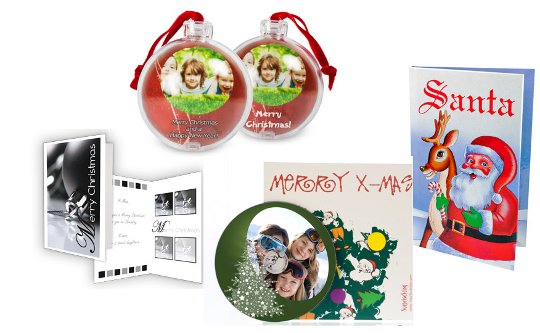 There are lovely personalised gift ideas for young and old with 15% off starting tomorrow at YourSurprise.com, exclusively to PlayPennies readers.
Personalise your presents this Christmas
Discount: 15%
Applies to: Christmas Balls, Santa Book, Christmas Song and Christmas Card
Promotional code:PlayPennies15%
Expires: 30 November 2011
There are four personalised gifts available in this offer.
The Christmas Balls are ordinarily £10.95 for two, but are reduced to £9.31 for you. They are 8cm in circumference, and will make a unique and gorgeouss addition to your Christmas tree – I think these are also a lovely way to commemorate baby's first Christmas or decorate Granny's tree with images of the grandkids.
For something a little more suited to children, there's a personalised Santa Storybook. Your leading man or lady will help Santa spread the Christmas Spirit as Rudolph the Reindeer offers you a ride. The full colour, hard cover story covers 24 pages and while included in the story, there's also space for a personal message for your recipient. (We reviewed a personalised story book from YourSurprise.com over the summer, if you want to know more about it!) £11.95 becomes £10.15 in this deal
A rather unusual gift, the personalised Christmas Song is a catchy tune that has a few adaptable lyrics – for example you can change affectionate terms like 'darling' or 'angel' and the name of your recipient will be mentioned 3 times throughout the song. This is burned to CD and wrapped in Christmas wrapping for £11.43.
And then, if you're skipping the presents but want to show a little thought for the cards, there's a lovely range of customisable Christmas Cards you can add photos, texts, different designs and so on. These can then be sent directly our be returned to you to hand out yourself. Personalised Christmas Cards cost £1.66 each.
Shipping isn't included in the prices, but those differ for each item, so just check on each item before you start.