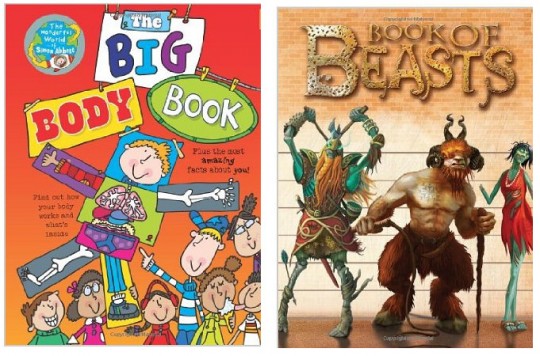 We are big book lovers and have bookshelves in all our rooms. It's something I've really been trying to encourage in my pre-readers because I think a child that can get lost in a world of imagination and spend hours reading, is a really easy child to raise! As a result we grab any opportunity for new books in our collection, and were thrilled to accept two books for review.
Tick Tock Books are a branch of Octopus Books and they sent us Book of Beasts and The Big Body Book.
The Book of Beasts is probably something a fan of vampire movies or Sleepy Hollow would enjoy. It's really not my cup of tea and my little people have enough night terrors without the help of book-monsters, so I didn't give it to my children to read. I can't find an age recommendation, but I'd probably guess about 6 and up - but that's really just a guess.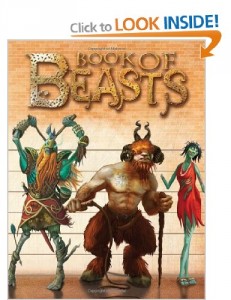 The fact that I don't like the book is personal though. It doesn't detract from the fact that it's really great quality. The hard cover book has 96 pages, separated into 5 chapters: 'Monsters of the Gods', 'The Undead', 'Dragons', 'Shapeshifters' and 'Trolls, Giants and Demons'.
Each chapter has an overview page with the beasts arranged like a police line up on a page titled 'Crimes and Midemeanours' where those are outlined in three bullet points. For example the Centaur's points are 'Unleashing arrow in a rage', 'Being drunk in charge of four legs' and 'Not having a stable background'. The Gorgon made me laugh - his primary crime is 'Having hissy fits' - (Gorgons have snakes for hair).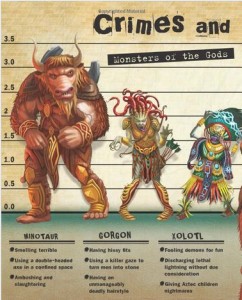 The remainder of each chapter discusses each monster in detail with their skills, tips on them and their beast rating.
There are 28 beasts and they are amazingly detailed in illustration. The pages are really nicely done and very good quality. Nice, thick pages. Again, really good quality. On almost any other topic, I'd be raving about it. Heck, I'm still raving about it, it's just not our cup of tea. I'm sure any one into this type of thing though, would love it.
The Book of Beasts has an RRP of £9.99, but Amazon currently have it on offer for £6.32.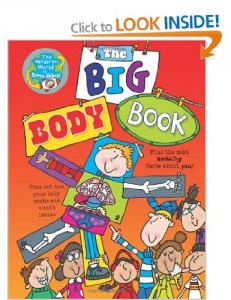 The second book from Octopus Books is The Big Body Book. This book rivals the first in quality. The pages almost feel like cardboard, even though they are not. The illustrations are bold and colourful and highly appealing to young children. If I had to guess an age-range for this book, I'd say about four and up. And it's the kind of book that can grow with your child too, because looking at my four year old, a lot of it goes over her head, but she does relate to a lot of it, especially the 'fun facts' scattered throughout.
As she grows, we'll definitely be able to refer back to it a lot. A few days ago she asked me whether the brain had legs, so I was able to open that page on the book and show her what a (non-gross) brain looks like. It doesn't go into major detail, but it's perfectly good for a little girl who could then run off with her question answered to her satisfaction.
The Big Body Book is really lovely and would make a wonderful Christmas gift. It's also quite cheap, much cheaper than the quality deserves. It's RRP is £5.99 and it's on Amazon for £4.49, which is really amazing value for what you're getting.
There's another book in the series, Journey Through the Solar System, and if that's half as good it would be well worth buying too.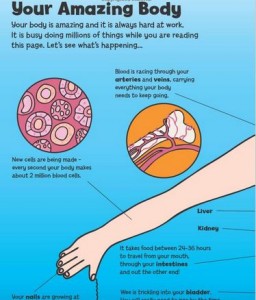 The Good
These books from Tick Tock Books are incredibly good quality
They are beautifully presented, bold, colourful and engaging
They have bite-size chunks of information, making them ideal for dipping in and out of
Both book are really good value for money in terms of what you're getting versus what you pay for.
Both would make great stocking fillers for fans of the subject matter or if you were doing book exchange these certainly look more expensive than they are.
The Bad
I can't think of anything bad to say at all.
The Verdict
The Tick Tock Books from Octopus Books are incredibly good value, good quality and the kind of thing you can give as a Christmas gift holding your head up high. They are great.