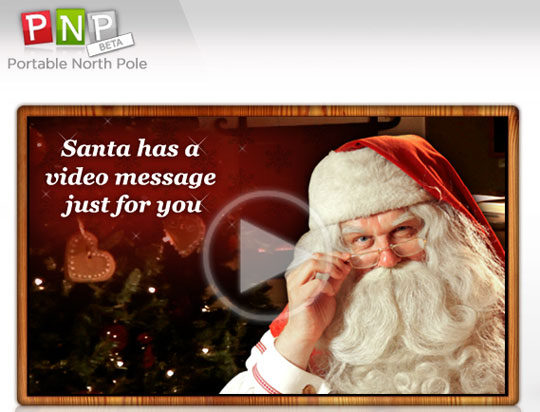 Yesterday Tamsin told you all about the Portable North Pole, the changes to the free video message and that there are paid options available now. This offer gives you 15 % off the digital media - that's the videos, the phone calls and the ringtones.
Give the gift of Santa with the Portable North Pole*
Discount: 15%
Valid on: All digital items
Discount Code: PP2012
While the free video is perfectly acceptable,there's an upgrade for more options and greater personalisation. You just have to add a few details, including three  pictures of your child, home and a favourite animal which then all appear in the video. There's loads available, like an app, with an advent calendar, phone call and so on.
There's also a shop where you can buy all sorts of Christmas paraphernalia, although this offer is only available for digital goodies.
5% of sales go to participating children's hospitals too, so at least you're supporting a good cause while bringing the magic of Christmas and of Santa into your home in as modern a way as is possible!
If you want to see it in action you can view the video here. 
It's really beautifully done so have a look and if you don't want to pay for the upgrade you still  the free option.