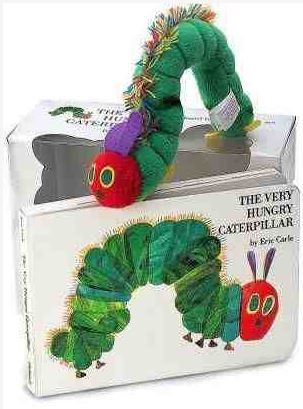 Amazon have an offer on the Hungry Caterpillar Gift Set - it's £4.39 including delivery, which is pretty good! You can buy the toy on it's own for £4.67 excluding delivery or the book on it's own for £3.85, so this all in one gift set seems like good value to me.
The very simple story of the caterpillar eating his way through a variety of foods, becoming bigger all the time, until he turns into a butterfly. The pages vary in size, getting gradually larger with the caterpillar, and have holes in to show him chomping his way through the leaves, fruit, chocolate cake and ice cream, so it is interesting and tactile for little ones.
The book introduces counting, days of the week and metamorphosis, and children love it.
According to the reviews the book is quite small, and the caterpillar can't pass through the holes, but it seems lovely none the less.
Thanks to Chanchi32 at HUKD