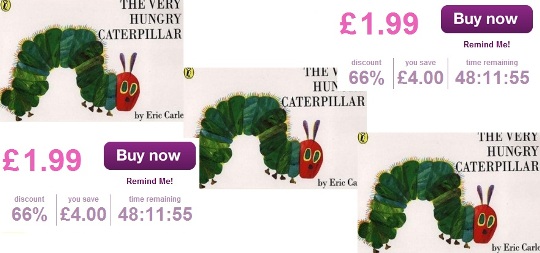 The Very Hungry Caterpillar has been marked down to only £1.99 at Savvy Mummys and is a 66% saving off the usual price. You get a hardcover version of this timeless classic for under £2, although you will have to pay 50p for postage, although that's hardly a heavy price!
The book is perfect for under 5s and over 30 million copies have been sold worldwide. I'll be honest, I never had this book as a kid so I don't get it. I think there are much better books out there but have been told I am quite mad for saying so, that this is utter genius. I know my daughter loves it.
You can only get one voucher per transaction and you will have to wait 10 working days for delivery but the deal is pretty hot. And if reading the Very Hungry Caterpillar is not your cup of tea, then check out their awesome deal of 50% off a four star trip to Morocco. It is seriously HOT.