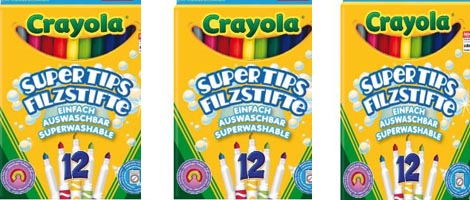 This is another great Christmas stocking filler at only £1.97 for 12 Crayola Supertips on Amazon. They come delivered for free and they are completely washable so they won't stain little hands and clothes.
The Crayola Supertips Washable Lavable pens are brilliant for projects and drawing and general colouring fun. They delivery great colours, are easy to use and hold, and they are completely washable to save your sanity as a parent.
They also, I have discovered, don't squeak. For some people that's bound to be a big deal because a squeaky marker pen can really do your head in.
The set includes 12 different colours and are suitable for children over the age of four. They may not be great for smaller kids as the littlies may try and eat them or draw on your walls.
An ideal Christmas stocking filler, or time filler for holidays, this is a bargain price, especially since it includes free delivery.
Thanks to babymanor at HUKD!