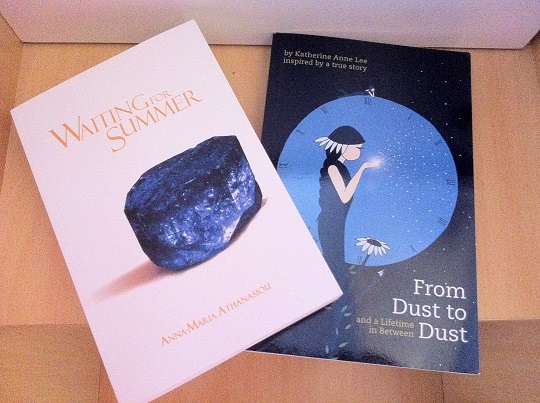 It has been so long since I had the luxury of having two brand new, paper back books to read. That smell of new paper is so delicious! There's lots of research to show that seeing their parents reading for pleasure encourages children to read themselves. So it is time for mums and dads to start getting in some reading of their own, between all the Oxford Reading Tree books, and endless CBeebies magazines!
I received two books to review. Both have very inspirational, personal stories. One fictional, one biographical (about her grandmother). The other thing that both books have in common is that they are  available online through major bookstores as a paperback and as an eBook. Read on to find out more!
From Dust to Dust: and a Lifetime in Between
From Dust to Dust (ISBN:9783952420508) describes itself rather spookily as a biography from beyond the grave. Mollie Cooke is the author's grandmother, born before the second world war in the Shropshire countryside, she lives through depression, war, widowhood, a joyous second marriage and motherhood, saddened by the loss of her only child at a young age.
Her grand daughter Katherine based the book on conversations she had with Mollie before and during her descent into Alzheimer's disease.
Normally this is the sort of book I'd avoid. With a ten foot barge pole. The first page is an awful assault on the eyes full of style-istic no-nos such as repeated use of numerals like 2nd, 1st, and 20th. Also, I'm afraid, it is clear that she would really have benefited from the editor a publishing house would have assigned to her.
But.
This is a powerful, engrossing and exceptional story. It is a roller coaster, you feel every bit of the highs and lows of Mollie's life. Written in the first person you really do feel like you are Mollie. So for every use of a word like deadbeat, when she meant to say dead beat (really two different meanings there), there's a beautiful line that just drives straight through your heart. As she starts to descend into dementia you feel every bit of Mollie's confusion. It gave me a greater understanding of what my dad must have gone through when the dementia began to eat away at his brain.
I hope this book also gets picked up by a mainstream publisher. It really is Call the Midwife type of engrossing.
Overall verdict: 7 / 10
Waiting for Summer
Waiting for Summer (ISBN: 9781849635035) is published by Austin MaCauley. The book is set on the island of Corfu where the British author now lives with her husband and two teenage sons. The book follows the fictional story of Sylvie Sapphiris as she journey's from heart breaking betrayal to finding love all over again.
With a story like that, and a title like that, plus a pleasing cover, I thought I would be telling you all that this is what you should get for your holiday reading. But I can't because I couldn't finish the book. I found it rather boring, and couldn't get into the story at all. I skipped to the end eventually and was so disappointed by that I couldn't find the motivation to try again.
Overall verdict: 1 / 10