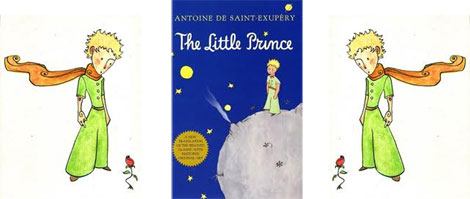 If you've not heard of The Little Prince before, it's a story book and HMV are selling it for just £1.
I'm not really sure how to describe The Little Prince to you, it's one of the most 'strange' stories I've ever read and one of the most enchanting, although I really can't pinpoint why.
It's a tale about a pilot who crashes in the middle of the Sahara desert, thousands of miles from anywhere, and is befriended by a little prince.
The pilot wants to rebuild his plane as quickly as he can and the first thing the little prince asks him to do is draw him a sheep!
The pilot is very irritated by this but he obliges.  However, the first sheep is too sickly and so the little prince asks him to draw another one; this one is too old and in the end the pilot draws him a box with three holes in it, "The sheep you want is inside that box," says the pilot.
The little prince is very happy with this, "That is the sheep I always wanted," was his response to the box.
See! It's odd, and the whole story carries on in that way of oddness but it's massively enchanting.
For £1 you can't go wrong, even if you end up not understanding what it's all about or hating it.
Thanks to andywedge at HUKD