Mr Men Book Collection £27 @ The Book People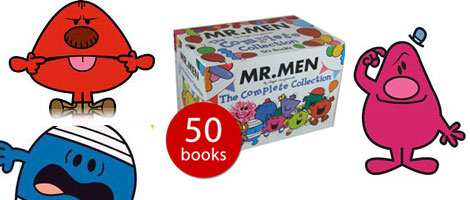 The Mr Men Book Collection comes with its 50 books all nice and neatly stored in a presentation case - Mr Tidy is very happy about this!
Mr Messy, on the other hand, is willing to bet you a tenner that your kids won't put them away back in their case once they've finished reading them - if my kids were are anything to go by, I wouldn't take him up on that bet...you'll lose money!
I LOVED LOVE the Mr Men!
The one I remember reading most when, I was little, was Mr Forgetful and I still like reading it now – it's like an old friend.
"Farmer Giles, there's a goose asleep in the lane!" Poooor Mr Forgetful.
My brother had Mr Bump and Mr Jelly too and I loved listening to my mum reading them to him at bedtime.
The additions of Mr Christmas and the Mr Men Christmas books add a lovely festive element to this Mr Men Book Collection, making them a lovely Christmas gift which will be enjoyed l o n g after all the mince pies have been eaten.
Now, the published price on The Book People's website for this Mr Men Book Collection is £30, you're going to need to use one of these codes to drop it to £27: CAPTAIN10 or SPEND30.
Thanks to andywedge over at HUKD!