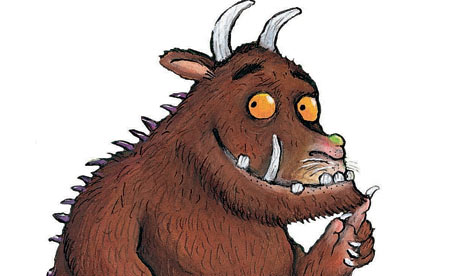 There's no such thing as a Gruffalo…didn't you know?! But there is such a thing a  The Gruffalo story book deal over at Play just now!
Just in case you've only recently arrived from Mars and have no idea what this 'Gruffalo' thing is I'm talking about, here's a quick Gruffalo 101:
The Gruffalo is a monster; he has terrible tusks, and terrible claws, and terrible teeth in his terrible jaws; he has knobbily knees and turned-out toes and a poisounous wart at the end of his nose.
Scary huh! Everyone in the deep dark wood seems to think so…apart from a clever little mouse.
The Gruffalo really has captured the imagination of the nation and there are few things that have yet to have the Gruffalo stamp put on them…like fresh air, although I'm sure it's coming soon to a store near you!
Well, you can buy jars of fresh country air from the National Trust - I kid you not! - so why not some from the Deep Dark Wood?! (Gruffalo marketing people...that was my idea first, I claim the rights to it!)
If you don't already own a copy of The Gruffalo story book then you must rectify this insanity at ONCE! You can grab The Gruffalo from play.com for £2.39 instead of £5.99 - go on, do it now...it's the LAW!
Thanks to andywedge at HUKD