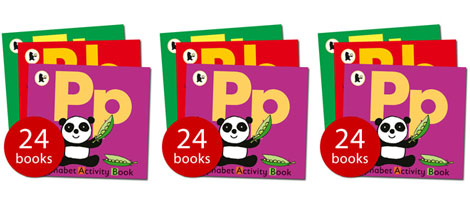 The Book People are selling this rather nice set of Alphabet books for £9.99 rather than the £47.76 list price.
These lovely little paperback Alphabet books have 20 pages each and will help your little one get to grips with learning the alphabet.
The Alphabet books contain lots of spot the difference, counting, sequencing and matching games which will help build your child's confidence as they take their first steps into the land of learning.
As grown ups it's easy to forget how fundamental the alphabet is and as a rule we probably don't remember much about our own learning of it.
Our reading, writing and vocabulary skills all depend on a solid grasp of the alphabet and these alphabet books will make sure that getting to grips with those 24 letters is fun and rewarding.
These little Alphabet books are also perfectly sized for packing in a bag and taking out and about with you if you need some distraction on the move...
"These are smaller than they appear on the website but are just handbag size, ideal for emergency actvities in restaurants, waiting rooms etc.
They are based around one letter but there is no writing or reading involved - good pre-reading activities like matching, odd one out etc for the preschool year or reception."
If these Alphabet books are all you're going to buy from The Book People then a single item delivery charge of £1.95 is all you'll pay; of course if you have more books to buy and your order goes over £25 then free delivery kicks in.