Weight Watchers Hot Chocolate Review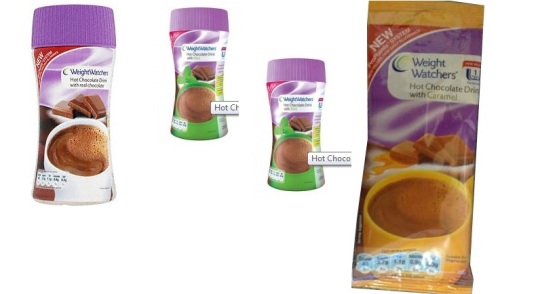 There I was, innocently collecting the post, when three Weight Watchers Hot chocolate sachets appeared. One was caramel, one was mint and the third one was plain. Seeing as it was cold out and I fancied something sweet, I thought I would start with the caramel.
The Weight Watchers caramel flavoured hot chocolate is alright. Just alright. It doesn't suffer from a nasty chemical aftertaste, something very common to diet hot chocolate, and tastes nice but it didn't shiver my timbers or shake my tree. I love caramel but found there wasn't a very strong caramel flavour to it.
Next up was the Weight Watchers plain hot chocolate. Like the others, it is so easy to make. Add hot water, stir, drink. I add some cold milk to cream it up a bit (fat free of course!). Now this was more like it. In fact, I prefer it to the Options Hot Chocolate that I usually drink.
Years ago I gave up on instant hot chocolate, especially the diet ones, as they tasted foul. This was delicious. The Weight Watchers plain hot chocolate is creamy, chocolately and decadent. I loved it. It will be replacing my usual hot chocolate on my next shopping run.
The last sachet was mint. Now, I am not a fan of mint chocolate unless it is After Eights so I wasn't sure I was the best person to test this. I gave it to weight watching hubby to drink instead. He is very fussy so I wasn't holding out much hope for a good review. However, he liked it. He said it wasn't too sweet and wasn't too minty but was a nice blend of the two.
It costs around £2 at Tesco at the moment (on sale) and around £2.85 elsewhere. A good price for a scrummy hot chocolate.