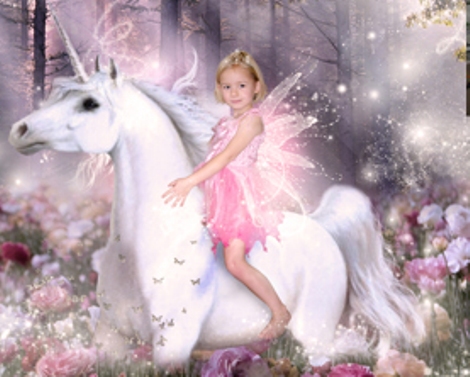 When PlayPennies sent out the call for fun, funky and cost effective Father's Day presents we were rather taken aback by this particular product. Once I get into the review I'm sure many of you will be a little sceptical but I have to admit that I had a lot of fun with this review.
The concept is simple. Enhance Me is the creation of a mum working from home making bespoke Photo Portraits for the mere cost of around £13.99 – the costs may vary depending on what your vision may be or how much detail you want.

When I went to her site I was enchanted by the images she created for children. I desperately wanted to get my daughter placed into any one of these magical fairylands. She would absolutely love being on a unicorn or sitting in a field with fairies. But this was not to be. This was to be a review for Father's Day.
So, in the spirit of making this into the best Father's Day present ever, I sat down with my husband and worked out what he would like from the site. Did he want a picture of his daughter or would he like to be transformed into a hero, a baddie or a knight in shining armour  (see left)?
The answer was, "Can I be Indiana Jones, please?" Obviously I was all for that idea. Who doesn't fancy Indiana Jones? So I duly sent off some photographs to this entrepreneurial Mum, Victoria, for her to transform into Indiana Jones.
I'll be honest. I wasn't expecting much. This is essentially just fun Photoshop-style photo manipulation that has been done for decades. But I did like the idea of it being accessible to everyone. Unless you have a mate that's a whizz with computers or design, or happen to work in publishing, you'll rarely get the chance to turn your husband into a stud you fancied as a teen.

The first image we received is the one you can see here. It wasn't quite right and I found the head a little disturbing. However, true to her word, Victoria was nothing but helpful. She happily took all of my concerns and criticisms on board and sent me another option less than 48 hours later.
Now, the speed of her turnaround is impressive too by the way. So if you're doing a rush order on a Father's Day present then this could save you.
The second image is below for you to see. While I have to admit that this still isn't quite right, the angle of the head makes him look nothing like an Indiana Jones-style stud, I love it.
I need to add that Victoria didn't have great images to work with. I had hardly any pictures of my hubby without him holding my daughter, and the few that I did have put his head at an awkward angle. I think she did a good job with the limited images at her disposal.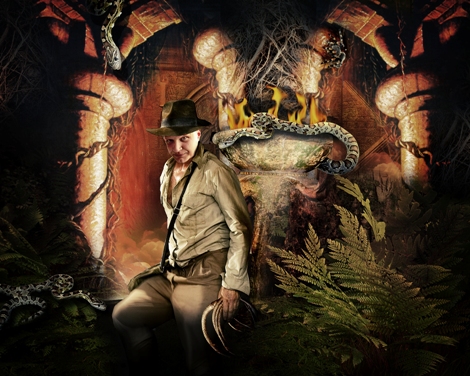 And Finally
Personally I think that the images of children and babies on her site are the best and would happily pay her the £13.95 to get pictures of my daughter in fields of flowers and fairies. You get high resolution files mailed back to you in colour, black & white and sepia so you can print them as many times as you like in different formats. She can also work to any dimensions you choose, so if you're planning a long canvas for your child's bedroom then she can ensure it will fit.
My husband's final verdict was that he wasn't entirely unhappy with his image, he was rather pleased, I think, to see himself with Harrison's unbuttoned sexy chest. I thought the resulting image was loads of fun and definitely worth the price just for the entertainment value of putting it on his Facebook page and making people laugh.
I wouldn't necessarily put this image on a canvas print but I would put it on a mug and send it to his Dad as a Father's Day present with a twist (or his mum as a birthday pressie). I would definitely put any one of the child images on a canvas though, they were stunning.