miamoo Baby Products Review

Organic, natural and child 'safe' beauty products are a booming market at the moment, and we're regularly hearing of another product that's come out for children. As a mum to a child with a very sensitive skin, I love that organic and natural products are becoming more and more popular, and with it, more affordable. And sometimes it is really hard to know where to turn, since there are some really well known brands with 'for baby' ranges, or 'sensitive skin' ranges, that sound like the real deal. However, turn over the bottle and look at the ingredients, and they still contain things like SLS, or parfum, or even alcohol – not ideal for sensitive skins at all.
When we received the miamoo baby range from Saira Khan, we sent it on to a mum much like myself: with a baby with very sensitive skin. The miamoo range contains no nasty chemicals, and their website offers a pretty good explanation of everything they've excluded.
Laney received four products from miamoo. Here are her thoughts.
"The miamoo products come with 'steps', like some fancy adult beauty products, which is quite a nice touch", Laney starts.
Saira Khan talks about this in her introduction to the product:  "I believe that if parents adopt a consistent and regular routine following miamoo's 3-steps to healthy, happy skin – cleanse, moisturise and massage – they really can transform their child's dry skin."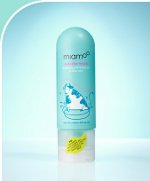 The first step is the miamoo Splashy Wash, which has a very lemony, zesty kind of smell.
"I love that I can put it on my baby's skin and it doesn't dry it out at all. I only need a little dollop of it at bath time, as she's small and it lather's really well.  It's a bit hard to know what else to say, really. It's lovely, it works well, it stretches far, and it's full of natural ingredients, which makes me feel better about using it on delicate skin."
Splashy Wash has moisturising ingredients such as soya bean extract, jojoba extract, silk and chamomile extract that ensure a moisturised feeling, rather than drying out the skin.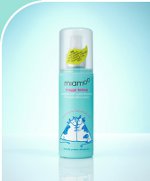 The next step after cleanse, is usually moisturise, and the Huggy Lotion is no different.
"Huggy Lotion is a beautiful moisturiser." Laney tells us. "It comes in a squirty bottle, which is nice as it only gives you a little at a time, which is great as there's no wastage."
This is what Miamoo call 'mum friendly/germ resistant packaging.
"The cream is soft, smooth and not oily, and it absorbs really well, leaving your skin feeling cool, soft and smooth, smooth, smooth.  Yes, I've been using it as, among other things, a hand cream. Have I mentioned this stuff is beautiful? The cream contains sweet almond and marshmallow extract, but it has no discernable smell, which is quite nice."
Although not what it's intended for, Laney thinks this would be an excellent after sun moisturiser because it is really very cooling.
The third step is the one most beauty products for adults are sorely lacking – the massage, and the masseuse to match!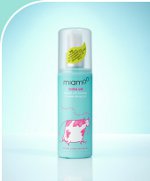 "The baby massage oil, or Baba Oil as they call it, is lovely too. It has lavender and sweet almond oil in it, but it's not an overwhelming smell, in fact it's understated which is great as you can take a long deep whiff of your baby and just get the hint of lavender. Gorgeous."
It's an oil, so obviously it's a little oily, Louise told us, but she also said it's quite 'thin' and it draws into the skin really quickly. "It leaves my skin feeling soft and moisturised and even my knuckles uncracked.  It leaves my baby's skin feeling the same, to touch, and of course, the actual act of massaging leaves her relaxed and a little closer to ready for bed."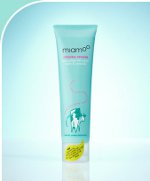 The last product in the pack we sent contained the Cheeky Cream, which is one of those nappy creams that can be used as a number of other things too.
"It is rich without being overly thick," Laney tells us." It doesn't have to be fully absorbed when using it as a barrier cream, but even when you do want to rub it in properly, it's easy to do – which is great, because that's really tough to do when you have a squirmy baby underhand."
Of the cream itself, she says, "The cream doesn't really smell of anything – a little like aqueous cream really -  but it does feel like luxury."
That does seem to be a theme for Laney in the review of this product – and if you read the reviews on the products on the Boots page, other mums seem to agree.
"I must admit, I think miamoo is a great product and is fantastic value, and as compared to a lot of things that are kind of 'fobbed off' on babies and children, this is real quality stuff and great value for money. It's definitely something I'd buy again."
Which you can do at Boots stores, or any of these websites: www.miamoo.co.uk, www.ocado.co.uk, www.nct.co.uk and www.boots.com