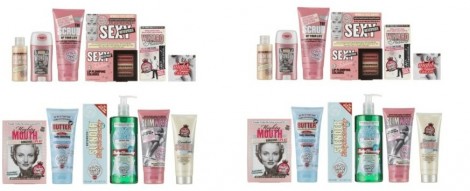 This particular deal has been sort of floating around for a while at Boots but I thought it was well worth bringing back into the light, especially as Christmas approaches and we all need to get good pressies without spending a fortune. You can nab this enormous bundle of yummies and goodies for only £35 at Boots and you get 500 advantage card points at the same time.
The Soap and Glory gigantic bundle comes with quite a few lovely products. I've used some of their things before and found them quite nice actually. In fact, I preferred some of them to the more popular brands on the market.
The bundle comes with Wash Almighty body cleansing gel, Wizard of Flaws line filling luminiser and concealer, Return to Sender body contouring gel, Slimwear Peptide balm (no clue!), Mighty Mouth gorgeous lips kit, Night In Shining Armour, Sexy Mother Pucker gift set, Calm One Calm All bubble bath, The Greatest Scrub of All, One Pit Wonder deodorant, Spa Butter Up, and the Scrub of your Life body buffer.
Nice!
Thanks to GLENHESKETH at HUKD!