New Zap & Clear @ Green People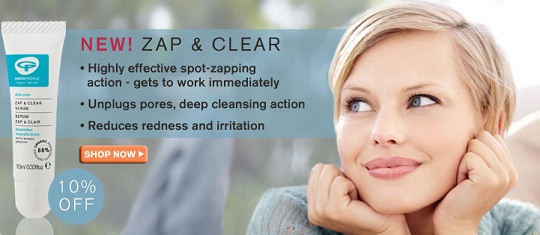 Looking for a flawless complexion? Try Green People's new Zap & Clear Serum! For only £9.85 you can get rid of those ugly red spots and skin irritations. Normally selling for £10.95 you'll be amazed at how effective this tiny tube is at helping you to look your best.
Plus you get free delivery on the UK mainland if your order is over £50. And with Green People's incredible range of organic skin and hair care ranges you might find your shopping cart at 50 Quid quicker than you thought.
Really, I'm too old for pimples so every month when they grace my T-panel I swear and curse. Wasn't five years of spotty teenage-dom bad enough?? This instant spot-clearing gel with antibacterial action is exactly what will banish my little red nemeses. It gets to work immediately and because it contains Black Willow Bark, it destroys any bacteria associated with acne. It also deep-cleans your pores, speeds up skin renewal and removes dead skin cells. All you have to do is dab the serum gently onto the affected area several times a day and hey presto, a spotless face in no time at all. Zap & Clear uses 88% certified organic ingredients, contains fairly traded organic ingredients and is suitable for vegans or vegetarians.