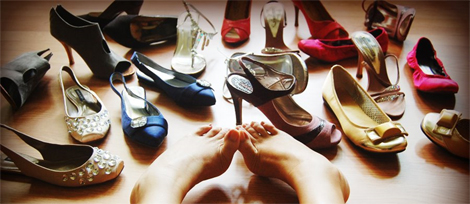 I was browsing the interwebs and feeling a little depressed, so I thought I'd do some shoe shopping to cheer me up! I've discovered a shoe sale at Schuh online, and there are a wealth of bargains available.
This post will focus on the ladies deals because "I'm a lady, you know," but you'll be glad to hear that there are plenty of bargains for the guys too - see them here.
Sale prices start at £5, and upwards from that. There are loads of £10 and £15 bargains that I wouldn't mind seeing on my feet! Sizes are a bit limited though, so you might have to hunt for a decent pair in your size.
Let's pick out a few that I like:

The Womens Schuh Cosmos Star Court Low Heels are quite glitzy (pictured right), and I like the height of the heels. The colour is fab too - I'd wear these with jeans. These shoes are only £15 (free delivery).

I adore these Womens Babycham Robot Wellie Boots (pictured left) which are also only £15 including free delivery. Robot Wellie Boots! I need them! If you're feeling a bit more girly though, you might prefer the rainbow ones. Sadly these wellies are only in stock in size 3, so won't be available for everyone.

I'm a really big fan of the Skechers brand, I own a few of those myself. These Womens Skechers Sassies Night Out Trainers (pictured right) are only £15 as well. Now, they might not live up to their name in being glam enough for a night out, but still a nice little buy.

Love these Womens Red Or Dead Bert High Heels (pictured left). They are £20 in the Schuh sale. I actually like the chunky heels on these - fat heels are my preference anyway, I just cannot walk in stilettos.
You get free delivery on a £15 spend from Schuh online.