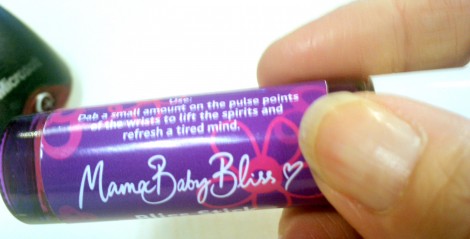 I may not be a new mum, but I'm definitely a stressed out one, so when Mama Baby Bliss offered to send me a Bliss Stick I was completely and utterly game. The Bliss Stick includes a subtle blend of mood-enhancing essential oils and is designed to fit snugly in your handbag. As you can see from the photo above, the  Mama Bliss Stick is really teeny tiny.
The essential oils included in the Bliss Stick are lime, geranium, and bergamot and these oils help energise and relieve a tired mind and lift the spirits. I'm always game to try out new therapies so this sounded like a wonderful idea, especially since I'd just spent the last week surviving on five hours sleep a night and my tot had decided that this was also the perfect time to start pushing boundaries. In short, I was frazzled and this Bliss Stick sounded great.
When it arrived I'd just spend the day commuting to London, as mentioned in the fitflop review. I was the epitome of the bedraggled mum. I immediately whipped off the lid and dabbed it on my wrists. YUM! The smell is divine. Now, sometimes essential oils can be a little overpowering. Well, for me anyway. If they smell too strong I tend to get a headache instead of a health benefit.
Thanks to the easy little roll-on applicator (a genius idea I must say) I could determine how much I wanted to put on my wrists and neck. At first I rolled just a little on but now I'm an addict. Every time I feel stressed, or the start of anxiety creeping up my shoulders, I put some Bliss Stick on. I can't tell you if it works scientifically, but I can tell you that it definitely works for me. Psychosomatic or not, this is my new little rescue remedy.