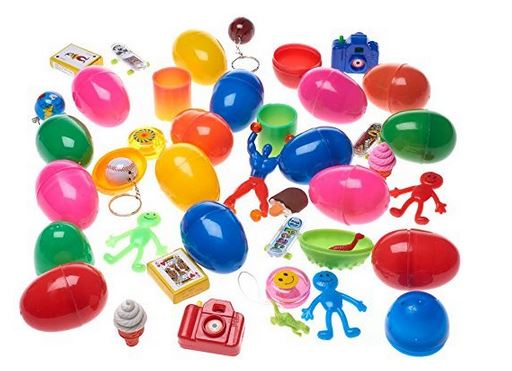 If you're looking for an alternative to Easter eggs, and the fabulous Playmobil eggs aren't in budget, how about these 12 toy-filled Easter eggs from Amazon for £6.87 delivered.
I wasn't sure about these at first, but the reviews on them are pretty sparkly.  These eggs are ideal for Easter Egg hunts, with a pack of 12, containing 'pocket money' toys inside.
The toys are best suited for children over 3, with mini playing cards, a globe keyring, a dinosaur, bendy man, rubber, ink stamp and ring and so on. They are 'junk' toys, really, but the idea is great if you don't want to fill the kids with sugar on Sunday morning.
Perfect for preventing kids that can't have one of the many allergens from feeling left out come Easter weekend.