Woodland Wonders Little Wonders £2.50 @ Mothercare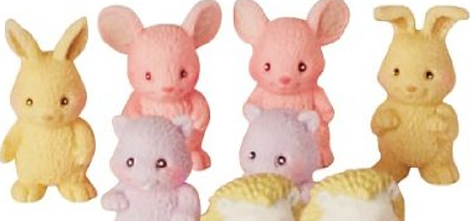 I never thought I would see the day that Mothercare had an item for less than £5. I find them a little expensive if I am honest, and with not so much variety. Anyway, these little woodland animals have been marked down from £7 to £2.50 if you fancy creating a forest, or something.
These eight woodland animals are ready to chase, tumble and play in the woods together (their words, not mine). The set includes two hedgehogs, two harvest mice, two rabbits, and two squirrels and they are suitable for ages three and up.
I think that because I see Mothercare as the place to go for young babies and pregnant mums I am struggling to see the point of these little dudes. I spent a good few minutes staring at the screen and wondering what they actually DID.
They are, by the looks of things, just little toys for not so little kids that are cute and fun to play with. Or you could use them as out of reach nursery decoration if the mood takes you. They have 64% taken off and look cute enough, if a bit pointless.
Thanks to prettyprincess at HUKD!