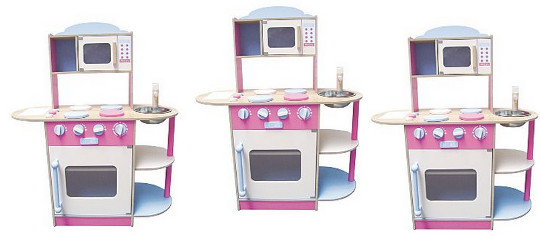 Asda Direct is offering a wooden play kitchen for £35. That's THIRTY-FIVE Pounds?! I am quite taken aback! It's original price was £70, but it's reduced by half and can be collected for free with Click and Collect.
Play kitchens are normally so expensive, I thought there must be something wrong with these, but there doesn't seem to be. They are wooden, bright and colourful, and will lead your child's imaginative play perfectly
The dials on the kitchen turn to set the temperature, there's a hob and a microwave to cook with, and there's a sink for washing up.
The reviews on this are really positive, and people liked it and thought the quality was good, especially for the price.
The only thing to bare in mind is that it can be ordered now, but won't be delivered before 5 November and that it isn't a huge kitchen, so great if space is an issue, but won't keep your child for as may years.
Thanks to kaytiebint at HUKD