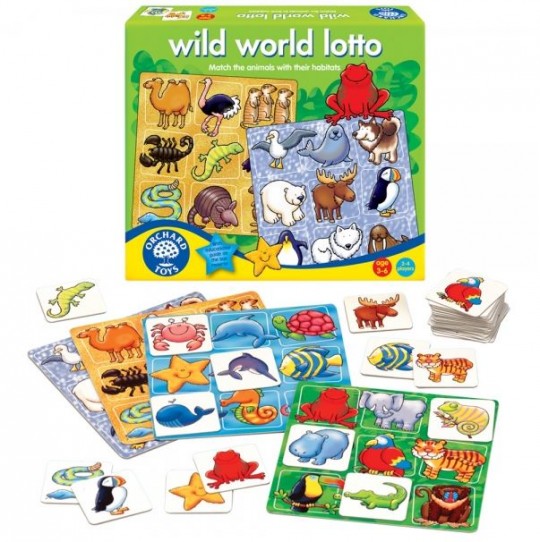 The Wild World Lotto game from Orchard Toys is an educational board game in which 2 - 4 players aged 3 - 6 (and their mums, in my case!) match the animals with their habitats in a versatile and fun bingo style game.
There are four game boards, each with a different habitat - jungle, desert, arctic and ocean - and 36 animal card with animals that go on each habitat. There's also an instruction sheet that tells you how to play the game proper, but you can also make it up as you go along, really!
The game can be played single player too, but obviously that's less competitive. My four year old does enjoy finding the right habitats though. With an older child you could play it as snap' where you match animals from the same habitat. I'm sure they'd come up with a few ideas too. My daughter has even used the cards in role play.
Wild World Lotto is also a great tool for learning the names of animals we don't normally find in the City Farm, and in discussion around different climates. There's really a wealth of accidental learning in playing this game.
The images themselves are beautifully illustrated with 'rounded' animal figures, making them all look friendly and cute The starfish and crab, frog and polar bear all even smile at you.
The cards are sturdy and hardy, so while they wouldn't look new, they do survive a bit of chewing, throwing and stomping.  Everything fits easily back into the box after use, ready for play again next time.
Wild World Lotto is £9.50 at Orchard Toys, but Amazon has it on 'sale* at the minute for £9.13.