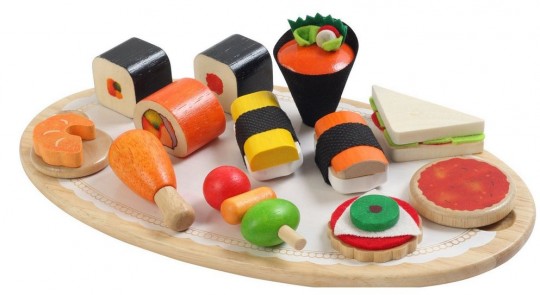 Voila, the wooden toy manufacturers, have a lovely 'Tidbits' play set* that my daughter received for Christmas. I don't really know why they call it 'Tidbits', because it's essentially a sushi platter, and it is really, really great. It's beautifully made and is perfect for play food. Compared to the cake stand set, where the cake pieces are really small, these are still small, but bigger, if that makes sense. They're not the size of the real thing, but are less of a swallow risk than the cakes.
Despite the majority of the foods on the tray being sushi - seven of them, although it could be eight if you choose to have the chicken drum stick pretend to be chicken Teriyaki - there are also four other pieces: a cocktail stick, a mini sandwich, a mini pizza (although the blurb calls that the quiche) and a cracker with bits on it too.
The Viola foods always mention teaching healthy food habits and that's something that was a criticised with the cake set - not much healthy eating there - but with the two sets together I would tend to agree. It's great having a tea-party and eating our sushi, tidbits and then cake, washed down with plenty of pretend tea.
The food comes with an oval shaped tray for it all to be presented on, and it all fits nicely. Unfortunately it doesn't come with storage, but there's enough of that in children's toys, so you should be okay.
Overall, we love the Voila Tidbits tray, add it to our other food toys and it all fits nicely into and in with the play kitchen, for perfect tea parties and lots of play food.