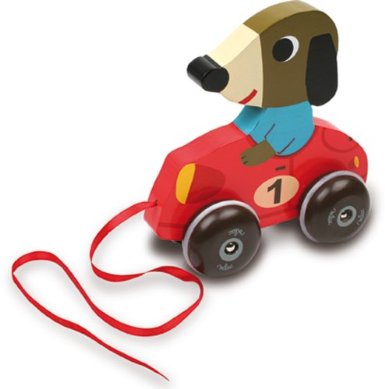 We were sent the Vilac Pull Toy Alberto to review with my little one, and we think it's a gorgeous little pull along.
Firstly, don't even bother going to the Vilac website. It's totally un-navigable, it's a nightmare. But fortunately, you can find Vilac toys in all the regular places, like Amazon, John Lewis* and so on.
It's unfortunate that these toys are not easily sourced, though, because they are such good quality.
Since starting life in 1911, Vilac has been making traditional wooden toys in a factory set in the French Jura Mountains. Their wide range includes building blocks and tea sets, all beautifully made and hand-crafted using high-quality wood and unique lacquer.
Vilac use timeless timeless designs in bold colours,  creating a quaint and nostalgic appeal that all members of the family will fall in love with.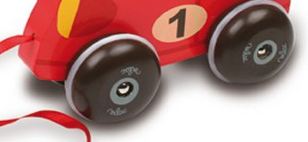 The Alberto pull along dog from Vilac is lovely. It comes packaged in a box that looks like a road, and set against a cardboard backdrop of open skies and a sunny day, just perfect, really, for a open top drive in your red sports car.
Open it up and the packaging is minimal but secure, which is quite  nice. There are two plastic ties holding the wheels to the cardboard, and unlike other toys where you need a knife or hacksaw or strong scissors, these just twist off - bonus.
The pull rope is a red ribbon, which is quite soft and nice. It is attached to the wood, somehow inserted into it, and so far quite robust. It's wrapped nicely around the box surrounding the toy, and threaded in such a way as to actually hold the box together. This is great because it saves on things like glue, or staples, and also gives it a bit of a personal touch. Someone wrapped it around - no machine did that. It just speaks of the quality of the product, really.
Finally we get to taking Alberto out of the box, and he doesn't disappoint. It seems like the whole toy is made out of one block of wood, with wheels stuck through it. That's great because you don't have small bits that could break off and pose any danger to the 12 months and older that the toy is aimed at.
The paintwork is gorgeous. It's nice and bold and bright and really catches small eyes. The details are painted on the front and the back, rather than just on one side.
Another really nice thing about the Vilac toy is something I haven't seen on other toys of this type before: there's a rubber strip around each wheel, which I suspect helps it grip on the floor, rather than just 'glide', if that makes sense. It means the wheels have traction, and actually turn, rather than drag. It's pretty cool, although I'm not convinced it makes a difference to my toddler.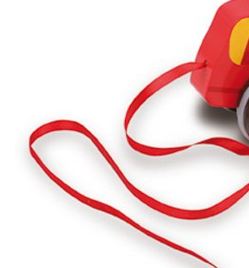 So what are the negatives of this product?
There aren't actually any I can think of. Perhaps the string could be a bit longer? But it's okay for a one year old.
The main problem really is that the toy didn't come out the box till my daughter was just over 12 months, by which time she'd been walking for more than two months, and wasn't as interested in a pull toy as the collection I'd built up for her suggested I'd hope she'd be.
That said, I don't suppose it's the same for all children, and someone else's child might never let their pull toy go.
The Good
It's a gorgeous toy and a lovely gift
The Vilac Alberto toy is incredibly well made and really very good quality. I'd love to see some of the other toys in the range and see if they're the same.
I love the rubber on the wheels. It's so well thought out.
The toy as a whole is really cute and sweet. It looks 'friendly', almost.
The packaging is minimalist and eco-friendly and environmentally conscious, which is great.
As a package, it's great, and the £15- odd price tag is really not bad when you compare it to other, similar products that aren't anywhere as near in terms of quality.
The Bad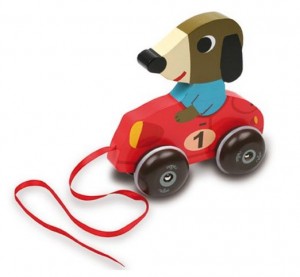 There's really not much to say here. The string could be longer, maybe, and the 12 month suggested age on it could limit it's use in an early walker. Like most toys though, if you rotate them, kids come back to them.
The Verdict
If the whole range is as lovely as this, it's pretty much my new favourite range. It's beautifully made, and the kind of thing you give quite proudly as a gift.