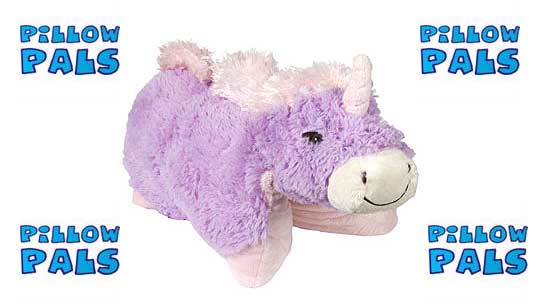 Home Bargains are selling this Unicorn Pillow Pal for just £4.99, it's normal full price is £14.99.
I reviewed a Ladybird version of this very cute Unicorn Pillow Pal back in May, or rather my five-year-old niece reviewed it for me; before then I'd written about the Pillow Pals but wasn't overly convinced - they didn't do anything other than look cute and fluffy, roll up like a pillow or lay out flat like a...well, like a flat pillow.
I was amazed when I watched my niece fall instantly love with the Ladybird Pillow Pal and become utterly inseparable from it; that Pillow Pal came everywhere with us for the next three days (she was staying with us for a few days with her mum).
You can't tell from the pictures just how big these Pillow Pals are, and OHHH my goodness they are so soft and cuddly you really do just want to stroke and snuggle into them all day long.
When laid out flat your Unicorn Pillow Pal is a large comfy cushion or can be wrapped around your body to cuddle like a half blanket.  Fold him/her in half, do up the velcro strap underneath the belly and it becomes a pillow - perfect for young heads to rest on during long car journeys - you can also fold your pyjamas up inside and use it as a pyjama case too.
My niece still loves 'Lily Ladybird', although she has stopped feeling bereft because she can't take her to school!
If you live locally to a Home Bargains store then you'll be able to pop in and collect your Unicorn Pillow Pal for free, otherwise home delivery will cost you between 99 pence and £2.95 extra.
Happy Pillow Pal cuddling!