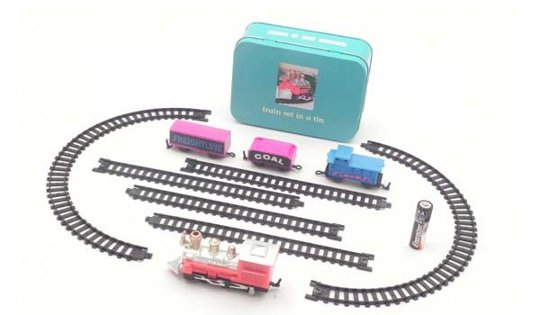 If you're looking for a lovely Father's Day gift, then well, I'd say keep looking, but if you're looking for an out and about, or on the road toy, this train set might be just the thing. Selling at Menkind for £9.99 plus £3.25 delivery, it's a fair enough substitute for your 'real' train set if you're travelling this summer.
The concept is lovely – a whole train set in a tin. It does look a little like cheap plastic, however, so I'm thinking it's not a collector's item.
The pros are that it is a Wild West Style Train with three easily removable carriages including a coal truck, passenger truck and a long truck.
There are six curved and eight straight pieces of track to form a complete oval and it comes in a handy storage tin, making it ideal for travelling since it's small, and I'd imagine quite light.
This set does require one AA battery, which is supplied, though there's no hint as to what it's for.
Thanks to goonertillidie at HUKD