Toddler Mum-Mum Snacks Review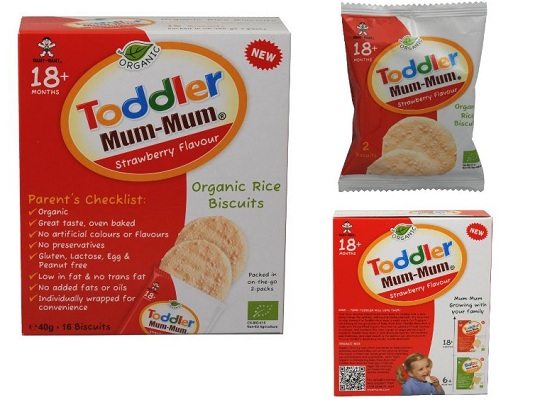 There's a brand new snack for Toddlers just recently launched in the UK called Toddler Mum-Mum.
Currently they're only available online from Amazon, but as we're always on the lookout for healthy snacks, we thought they were worth a try. I've learned in my two years as a parent that just because something is 'for babies' or 'for children' doesn't mean it's necessarily good for babies or children – like those supposedly 'healthy' yoghurt covered fruit snacks? Jam packed full of sugar! Or some 'snacks' for children – full to the brim with salt and preservatives. So we've learned the hard way to check the ingredients on snacks.
While I have a handbag full of raisins that have escaped from their various boxes and packets, it's nice to be able to bring a bit of variation into snack time, so I'm always happy to find a snack that's both healthy and affordable.  The two don't often go hand in hand. Enter Toddler Mum-Mum.
These baked Japonica rice cookies are a sweet and tasty snack made from organic rice, organic sugar, sea salt, natural strawberry flavouring, citric acid (which is vitamin C used as a preservative in foods), Gelatin and Thiamin (which is vitamin B1).  These biscuits are Gluten, Egg and Peanut free, and they are low in fat. They also have no artificial colours or flavours.
They are currently only available in Strawberry flavour, which isn't a problem as they are actually very tasty.  My mum and I had to try a few packets out of the first box, just to make extra sure, you know?
For £7.12 on Amazon, you buy a box of 4 boxes, each with 8 individually wrapped packets of biscuits and each packet contains two biscuits, so you're getting 64 biscuits in a box.  This makes each snack pack just over 22p which is massively cheaper than some other snacks we've tried.
Another massive bonus to these is that they make no crumbs – that means you can eat them in the car seat or pushchair or at grandmas house on her carpeted floor and not end up with crumbs everywhere.
The Toddler Mum-Mums are aimed at children over 18 months, but they are also available for babies over 6 months as Baby Mum-Mum biscuits (but we've not tried these yet!)