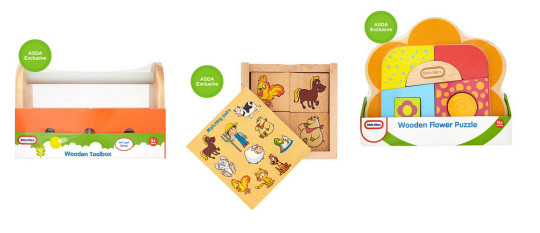 ASDA are selling a number of Little Tikes wooden toys - did you know they did wooden toys? I didn't! - from £2, half off. Read on to find out what they're selling. 
The Little Tikes Wooden Toolbox* features a sturdy wooden toolbox inside of which comes a saw, hammer, screwdriver, nuts and bolts. A perfect gift for a young Bob the Builder?  This is currently on sale at £5.
The Little Tikes Wooden Matching Pairs* game is a great first birthday gift, and fabulous fun for little hands. This is a fun farmyard animals set, ideal for kids to learn about animals and improve recognition skills. This versatile set is just £2.
The Little Tikes Wooden Flower Puzzle* is chunky wooden pieces for little fingers to grip. It's reduced from £5 to £2.50, and again, a brilliant first birthday present.
Pop on over to ASDA for great prices, and lovely looking toys I'm sure will be well received.