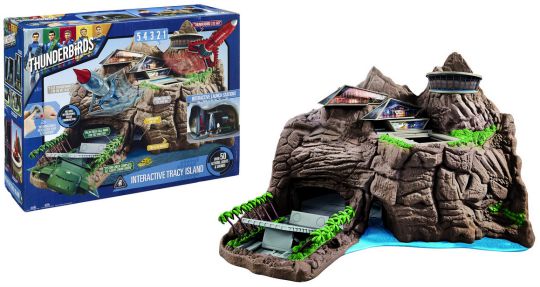 Have your children been loving the new version of Thunderbirds on ITV? It has been a big success, and the toy range is expected to be one of the top selling Christmas toys this year.
The huge Thunderbirds Interactive Tracy Island Playset is released in a few days on 6th August, and with today's £10 off Amazon voucher code BIGTHANKS you can get it for £67.28 including delivery, way cheaper than the £79.50 RRP that most shops are asking for.
The toy is a very impressive one, but I will say that is my husband and sons who are wildly excited about this one, not me. It does all sorts of whizzy things with lights and sound effects, and if it's going to be on everyone's Christmas list then getting any sort of discount on this toy is a good thing. Want to know what you're getting on this island?
Based on the world famous base, it uses the latest in smart technology to recreate the launch sequences that you see in the show. Put on the International Rescue Communicator and take command of the Thunderbird fleet. Tracy Island is packed with over 40 action and rescue sounds so you really feel part of the team! Flick the switch and the palm trees will move back to make way for Thunderbird 2, Thunderbird 1 and 3 can also launch automatically and are accompanied with lights and rocket noises. The moveable pool is included and you can even do some experiments in Brain's Laboratory. The Tracy Island set is a dream-come-true for Thunderbird fans!
Just so we're clear the Thunderbird's vehicles are NOT included in the set, but they are nowhere near as expensive as the island itself, and start from around £10 each. They also 'interact' with the island base, so you can launch the vehicles like in the show. Oh, all right, I admit it is pretty cool.
That voucher code for £10 Off When You Spend £50 at Amazon is for today only, so if you don't order by midnight the price will be the full £77. Delivery is free, and it will be dispatched when the toy is released on 6th August.
Let the Blue Peter gags begin.
Thanks to goonertillidie @ HUKD