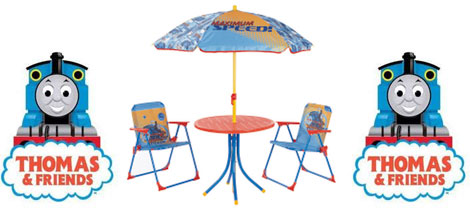 Bargain Crazy have reduced the price of this Thomas and Friends patio set from £42.00 down to £19.99.
So, I leave the country for two weeks and head for the southern hemisphere, where it's winter.  What happens? The weather here goes summer crazy; awesome.
I land back in London on Sunday to 27C - still awesome - the next day and all days since have been cloudy and at least 15C cooler; NOT. AWESOME!
Anyway, WHEN the summer returns (and p l e a s e let it be soon!) this Thomas and Friends patio set will be great for little ones in the garden.
If you're a little Thomas fan then this is going to be the epitome of summer COOL and you'll while away many a hot summer hour lounging in your Thomas chairs under the cool shade of your tank engine friends parasol, which Features a patented child safety lock and UV protective fabric (sun factor 50).
It's suitable for kids aged over three and comes with a table, a parasol and two folding chairs; here are the dimensions in case they're an important consideration for you:
Table:  46cm x 48cm x 48cm
Parasol: 120cm x 100cm x 100cm
Chairs: 53cm x 38cm x 37cm - the seat height's 28cms
Thanks to jl4jl at HUKD