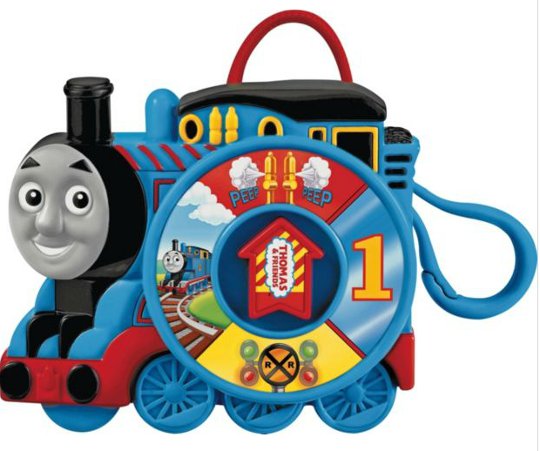 There's 60% off the Thomas and Friends Junior Point and Learn at Argos, and they're selling this £9.99 item for £3.99.  It's out of stock for home delivery, which is just as well since it would cost you more than the item itself does.  I checked a variety of postcodes though, and they still seem to be in stock.
I don't know where the imagination was when I was a child. Seriously, I don't remember toy shops and speciality stores or even much branded stuff – but then I did grow up in a different country and we only got TV when I was ten, so that may account for it. None the less, I'm pretty certain children today have way more colourful variety than we ever did!  How old does that make me sound!
So this isn't a huge toy – about the size of one of the reviewers' hands, if that helps at all?  Little ones turn the dial and press the button to hear Thomas sounds, melodies and character phrases. It's not rated particularly highly, mainly because it's smaller than people thought it was going to be… those who rated it on functionality and how happy the recipient was, were thrilled.
Thanks to Babsy Baby at HUKD