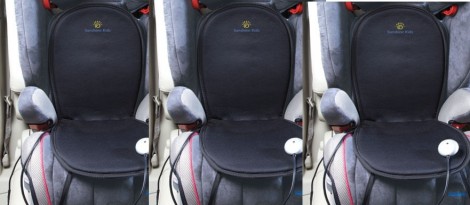 Kiddicare is selling the Sunshine Kids seat warmer for £4.99 when the usual RRP is £19.99. This is a rather lovely discount that will certainly make some parents happy. Me? I don't get why you need one, but hey, not everyone is the same.
The Sunshine Kids seat warmer will make that booster seat nice and toasty for little bums. It is perfect for an older child in cold winter travel on either a booster seat or a vehicle seat. It plugs into any vehicle 12v socket and has an automatic seven minute shut-off to avoid overheating.
The fabric is water resistant and the cord long enough to plug into the front of the vehicle. There are not many left so if you want one, you had better go and nab it now.
This entire idea amuses me no end as I honestly do not see the point but I know people with seat warmers built into their seats and they love them, so why not!
Thanks to tomalyo at HUKD!