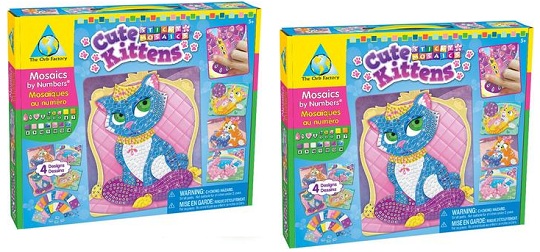 The Sticky Mosaics Cute Kittens pack has been reduced from £16.99 to £14.99 at Toys R Us. You'll only be saving £2.00 but it all helps and trust me when I tell you these packs are amazing!
I've seen these Sticky Mosaic packs in action and believe me when I tell you they keep kids busy and having fun on their own for hours.  Your kids can explore the world of playful Cute Kittens by creating your very own Mosaic masterpieces. There are a variety of patterns and textiles which create endless fun from start to finish.
It's almost like painting with numbers except instead of paint there are all different colours, shapes and textures of mosaic stickers. They find the stickers that fit the number on the picture and then stick them in place. The mosaic pictures they create are gorgeous and con be put on their wall, played with or whatever you'd like to do with them.
I really think these are one of the most creative ideas of the decade, get one and see for yourself!