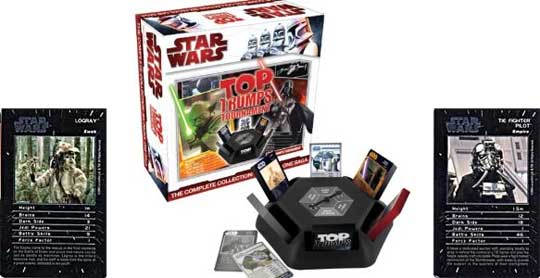 Ooooh it's a close call but Play have trumped Amazon in the price for this Star Wars Top Trumps Tournament set - okay, only by three pence but they've been trumped all the same.
Top Trumps card sets have always been a traditional stocking filler in my family; you could always rely on my mum to have bought the kids various packs of Top Trumps, and we'd invariably spend late Christmas day afternoon trying to top trump each other.
She had to buy new packs every year because the, now, teenagers were rubbish at putting all the cards back in their plastic case when they were finished (you know how that goes!).  I've just been speaking to my eldest about it and he reliably informed me that playing with missing cards just made it more interesting *sigh*
Now, this Star Wars Top Trumps Tournament really IS going to be the last thing I'm buying for my youngest for Christmas! I said that last week and ended up buying him the Lego Star Wars Minifigure clock I told you about (Darth Vadar in the end) so after these Star Wars Top Trumps I'm going to be STRONG, otherwise I'll be broke!
So, this Star Wars Top Trumps Tournament set features six different Star Wars themed Top Trumps decks of cards - one of them is a 'Star Wars Top 30 Moments' and only available with the game, it's not sold separately - and between two and six players play mini games to compete for the chance to win the Tournament Finale; awesome.
Play are selling Star Wars Top Trumps Tournament for £21.49 at the moment (Amazon - £21.52; trumped!) and there's no delivery to pay if you're having it delivered to the UK mainland.
Happy Top Trumping!