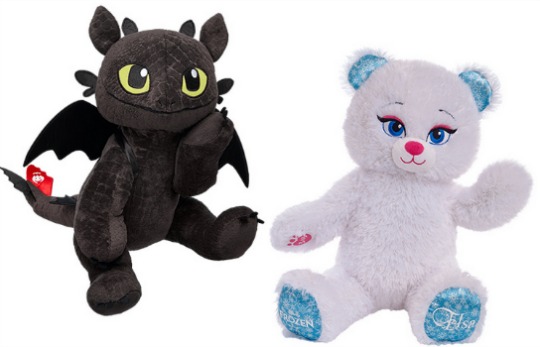 Build a Bear is so popular with children. The quality of their plush toys are really good, well we have never bought a bad one yet, and we have A LOT! They have a few toys/bears reduced at the moment and items start from just £4 as far as stuffed toys go. Plus spend £25, £10 or £50+ and enter one of the Build A Bear Promo Codes to get £5, £10 or £15 off!
£5 off orders £25+ use code 2001200
£10 off orders £40+ use code 2001201
£15 off orders £50+ use code 2001202
There's some really sought after bears at Build A Bear like Toothless* from How to Build a Dragon 2 or Disney Frozen Elsa Bear*, both priced at £19. I will point out that Toothless is NOT included in the promo code deal BUT IS IN STOCK NOW!
Who said Teddy Bears are just for kids? Valentine's day is fast approaching and there's a fab bear that would be a great gift for a loved or admired one: the Big Hearts Bear* now only £9. He is full sized at 43cm and one of the, if not the cheapest full sized bear on the site.
Postage costs £3.25 but the savings you make on the bears using the codes should counteract this quite nicely. Remember to use the codes to get money off!