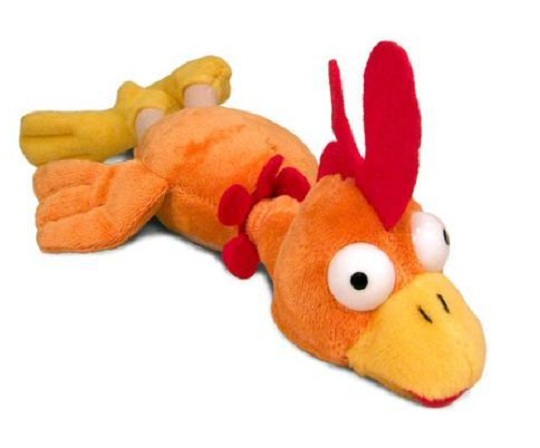 Yes, this toy is as silly as it looks but so silly it's seriously amusing and well worth it. The Slingshot Flying Chicken normally retails for £5.99 but at Play.com you can get it for a fun and more than worthwhile £2.79.
Declare war and send in your army of chickens! As I've said it all sounds very silly but that's what makes it so much fun. You'll be running around the house shooting chickens at each other. I say you because I'm pretty sure everyone's going to be joining in on this one and not just the kids.
The chicken's arms are stretchy which allows him to be catapulted into the distance. The arms are approximately 32 cm long before stretch and 75 cm when stretched so you'll get some serious flight time there. What you do is insert your fingers into pouches on the chicken's hands, pull back the legs and catapult it across huge distances; it goes up to 50 feet! And here's the deal breaker, I'm already rolling around the floor at the thought, according to the manufacturers, the chicken releases a "chicken call" upon launching.
Thanks to wishihadadonkey at HUKD!