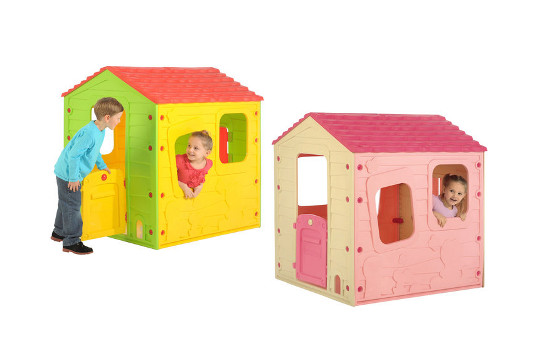 Toys R Us are gearing up for a summer spent outdoors - I wonder what they know that we don't? Or maybe they know they know the same as us and that's why they're selling off summer toys cheap, before summers even come! Either way, the Sizzlin' Cool Meadow Cottage is reduced from £99.99 to £49.99, making it half price. That's a penny short for shipping, so you'll need to either collect for free from a store, or pay £4.95 for delivery. Alternatively, add another, cheap item to take you over £50 so you can qualify for free delivery. I added Take Along Thomas the Tank Engine for £1.49 to add to the train collection and got free shipping.
Additionally, when you spend over £40, you'll also receive a £10 gift card by email once your order has been dispatched. It doesn't drop the price of the cottage, but it does give you £10 to spend next time.
Children will have hours of garden fun this summer with this fantastic Meadow Cottage. These fun, brightly coloured playhouses features a working half door and windows on either side and receive  pretty good reviews from parents reviewing them - and I'm sure if you've ever seen a child playing in one,you'll know they get rave reviews there too.