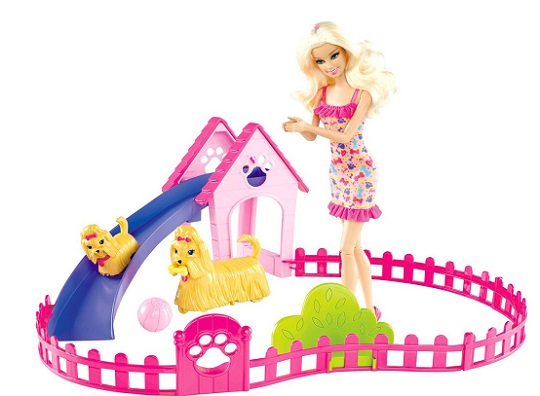 If your little Princess loves Barbie then you're going to love paying just £11.99 instead of the full £27.99. That's a massive 57% saving!
With her many outfits, careers and dream houses, Barbie has been the world's most recognisable fashion doll and a pop culture icon for over 50 years. But Barbie isn't just about fashion, she also loves spending time with and training her puppies. With this backyard set, Barbie can train and play with her two puppies outside.
The motorised larger puppy has an innovative sound-recognition feature. Just press the lever on Barbie's to make her clap and the big puppy either comes to Barbie or goes up or down the slide. The little puppy, also on wheels, can be connected to the bigger puppy. Once training is over, the two can play together on the slide. The set includes a Barbie doll with clapping feature, doghouse play set, a big motorised/sound-activated puppy, a little puppy, a ball and a bone.
So either stock up your Present Cupboard or make your little girl's day without breaking the bank with the Barbie Puppy Play Park for only £11.99 and FREE delivery to anywhere in the UK courtesy of Super Saver.