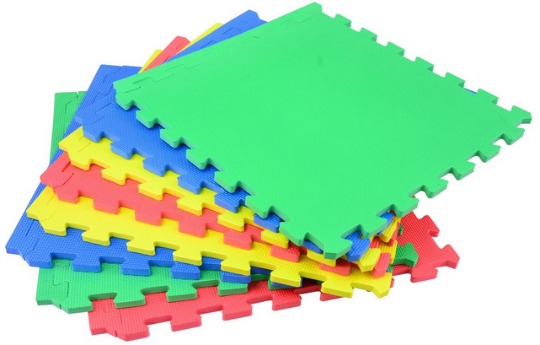 How many of us have slippery, hard wood or laminate floors? I bet it's a lot of us. Hard flooring is supposedly more hygienic but they aren't the best for little bums to sit and play on. These Rolson Interlocking Multicoloured Floor Mats are just £12.95 from Amazon. There are eight pieces in this pack which makes it a great price as they are currently £17.99 from eBuyer. Plus delivery is completely FREE. Rolson are the name I'd think of when thinking of interlocking floor mats.
The Rolson Interlocking Multicoloured Floor Mats are water resistant and easy to clean. You will get a mixture of blue, green, red and yellow in the pack which is nice and colourful to attract little people.
These are great for floors that may become slippery as these have a fine grip surface. They are a bit softer under the foot for little ones too as they are made from a high quality, dense foam.
I put these down for my kids when they are painting and they LOVE it! It just gives them a soft surface to sit on and I don't care if they make a mess as the mats are so easy to clean.